Спеції як один з важливих засобів посилення дієтичної реабілітації хворих з явищами поліморбідності, коморбідності та інфекційними процесами у контексті новітніх досягнень. Огляд літератури та дискусія
Ключові слова:
спеції, фармакологічні властивості, поліморбідність, коморбідність, реабілітація
Анотація
Обґрунтовано потребу ширшого застосування спецій у дієтичній реабілітації хворих із явищами поліморбідності, коморбідності та інфекційними процесами на підставі аналізу новітніх наукових досліджень їх фармакологічних властивостей. Проведено інформаційний пошук у друкованих і електронних виданнях, пошукових наукових базах із застосуванням методів аналізу, порівняння та узагальнення отриманих даних. Установлено, що останніми роками у світової медико‑біологічної спільноти значно зріс інтерес до таких спецій, як імбир, куркума, кориця, часник, петрушка, цибуля, базилік, гвоздика, коріандр, кардамон, різні види перців, кріп, кмин, чорнушка, мускатний горіх, розмарин. Виявлено, що всім їм притаманна різна за інтенсивністю протизапальна, спазмолітична, знеболювальна, антиоксидантна, антибактеріальна, противірусна, протигрибкова, гіпохолестеринемічна дія, деяким — протипухлинна, гіпоглікемічна, антикоагулянтна, антидепресантна, ноотропна, діуретична. Виділено групи спецій за домінуючими властивостями, що дає змогу лікарям застосовувати їх у дієтичній реабілітації диференційовано з урахуванням патогенетичних особливостей різних захворювань, особливо за наявності явищ поліморбідності та коморбідності. Зазначено перспективи ширшого застосування спецій при пухлинних процесах, цукровому діабеті, імунодефіцитних станах і хронічних інфекційних захворюваннях. Висвітлено перший досвід авторів з успішного застосування спецій у комплексній реабілітації хворих із постковідним синдромом. Нові наукові дані про фармакологічні, метаболічні, поліорганні та системно‑регуляторні властивості спецій дають підставу широко використовувати їх у комплексній реабілітації хворих із явищами поліморбідності, коморбідності та інфекційними процесами.
Посилання
Voloshyn OI, Boichuk TM, Voloshyna LO. Ozdorovche kharchuvannia: stan i perspektyvy KhKhI stolittia. Chernivtsi: BDMU, 2014. 526 s [in Ukrainian].
Voloshyn OI, Voloshyna LO, Kondrevych MI ta in. Petrushka posivna: mynule, sohodennia, perspektyvy vykorystannia (ohliad literatury). Fitoterapiia. 2020;1:4-8 [in Ukrainian].
Holubovska OA. Postkovidnyi syndrom: patohenez ta osnovni napriamy. Zdorov'ia Ukrainy. 2021;2:16-18 [in Ukrainian].
Kempbell K, Kempbell T. Kytaiske doslidzhennia. Klasychna knyha pro zv'iazok zdorov'ia ta yizhi: Per. z anhl. Kharkiv: Hlobus, 2019. 430 s [in Ukrainian].
Kovalenko VM. Komorbidnist i shliakhy ratsionalnoi farmakoterapii v revmatolohii. Ukrainskyi revmatolohichnyi zhurnal. 2014;2:12-13 [in Ukrainian].
Lazebnyk LB. Starenye y polymorbydnost. Zdorov'ia Ukrainy. 2006;20:80-81 [in Ukrainian].
Fadieienko HD, Nesen AO. Komorbidnist i intehratyvna rol terapii vnutrishnikh orhaniv. Ukrainskyi terapevtychnyi zhurnal. 2015;2:7-15 [in Ukrainian].
Khimion LV, Klimus IV. Polimorbidnist v revmatolohii. Suchasna prohrama vedennia simeinym likarem. Zdorov'ia Ukrainy. 2016;2:59-61 [in Ukrainian].
Aiyegbusi ОL, Hughes SE, Turner G et al. Symptoms, complications and management of long COVID: a review. Journal of the Royal Society of Medicine. 2021;114(9):428-442. doi: 10.1177/01410768211032850.
Ashokkumar K, Murugan M, Dhanya M. Phytochemistry and therapeutic potential of black pepper (Piper nigrum) essential oil and piperine: a review. Clinical Phytoscience. 2021;N 7:52-63. doi: 10.1186/s4086-021-00292-2.
Bakal SN, Bereswill S, Heimesaat MM. Finding novel antibiotic substances from medicinal plants — antimicrobial properties of Nigella sativa directed against multidrug-resistant bacteria. Eur J Microbiol Immunol. 2017;N 7 (1):92-98. doi: 10.1556/1886.2017.00001.
Bakhru HK. Healing through natural foods. Mumbai: JAICO, 2016:225.
Bäumler S. Heilpflanzen-Praxis heute: Porträts, Rezepturen, Anwendung. München: Urban &; Fischer, 2007. 989 S.
Belgaumi UI, Patil S, Gandhi JM et al. The many therapeutic applications of Nigella sativa — a review of literature. J Evolution Med Dent Sci. 2020. –N 9 (30):2151-2157. doi: 10.14260/jemds/2020/469.
Chahal KK, Singh R, Kumar A et al. Chemical composition and biological activity of Coriandrum sativum L.: A review. Indian Journal of Natural Products and Resources. 2017;N 8 (3):193-203.
Farshori NN, Al-Sheddi ES, Al-Oqail MM et al. Anticancer activity of Petroselinum savitum seed extracts on MCF-7 human breast cancer cells. Asian Pac Y of Cancer Prev. 2013;14 (10):5719-5723.
Farzaei MH, Abbasabadic Z, Ardekanide MR et al. Parsley: a review of ethnopharmacology, phytochemistry and biological activities. J Traditional Chinese Medicine. 2013;33(6):815-826. doi: 10.1016/S0254-6272 (14)60018-2.
Fatemeh Y., Siassi F., Rahimi A. The effect of cardamom supplementation on serum lipids, glycemic indices and blood pressure in overweight and obese pre-diabetic women: a randomized controlled trial. Journal of Diabetes & Metabolic Disorders. 2017;16:40-48. doi: 10.1186/s40200-017-0320-8.
Gaber El-Saber B, Alkazmi LM, Lamiaa GW et al. Syzygium aromaticum L. (Myrtaceae): Traditional uses, bioactive chemical constituents, pharmacological and toxicological activities. Biomolecules. 2020;10(2):202. doi: 10.3390/biom10020202.
Guerra FQ.S., Mendes JM, de Sousa JP et al. Increasing antibiotic activity against a multidrug-resistant Acinetobacter spp. by essential oils of Citrus limon and Cinnamomum zeylanicum. Natural Product Research. 2012;26 (23):2235-2238. doi: 10.1080/14786419.2011.647019.
Gupta SK, Sharma A. Medicinal properties of Zingiber officinale Roscoe — A review. IOSR Journal of Pharmacy and Biological Sciences. 2014;9(5):124-129.
Hajlaoui H, Arraouadi S, Noumi E et al. Antimicrobial, antioxidant, anti-acetylcholinesterase, antidiabetic, and pharmacokinetic properties of Carum carvi L. and Coriandrum sativum L. essential oils alone and in combination. Molecules. 2021;26 (12):3625. doi: 10.3390/molecules26123625.
Hamidpour P, Hamidpour S, Elias G. Rosmarinus officinalis (Rosemary): A novel therapeutic agent for antioxidant, antimicrobial, anticancer, antidiabetic, antidepressant, neuroprotective, anti-inflammatory, and anti-obesity treatment. Biomed J Sci & Tech Res. 2017;1(4). doi: 10.26717/BJSTR.2017.01.000371.
Ho LT.F., Chan KK.H., Chung VC.H., Leung TH. Highlights of traditional Chinese medicine frontline expert advice in the China National Guideline for ­COVID‑19. Eur J Integr Med. 2020;N 3. 101116.
Issac A, Gopakumar G, Kuttan R. et.al. Safety and anti-ulcerogenic activity of a novel polyphenol-rich extract of clove buds (Syzygium aromaticum L). Food Funct. 2015;3:842-852. doi: 10.1039/c4fo00711e.
Singletary KW. Oregano: Overview of the literature on health benefits. Nutrition Today. 2010;45(3):129-138. doi: 10.1097/NT.0b013e3181dec789.
Kocaadam B, Şanlier N. Curcumin, an active component of turmeric (Curcuma longa), and its effects on health. Crit Rev Food Sci Nutr. 2017;57:2889-2895.
Kumari I, Kaurav H, Chaudhary G. Myristica fragrans (Jaiphal): A significant medicinal herbal plant. International Journal for Research in Applied Sciences and Biotechnology. 2021;8(2):213-224. doi: 10.31033/ijrasb.8.2.27.
Kunnumakkara AB, Bordoloi D, Harsha C et al. Curcumin mediates anticancer effects by modulating multiple cell signaling pathways. Clin Sci. 2017;131:1781-1799. doi: 10.1042/CS20160935.
Luo H, Tang Qiao-Ling, Shang Ya-Xi. et al. Can Chinese medicine be used for prevention of Corona Virus Disease 2019 (­COVID‑19)? A review of historical classics, research evidence and current prevention programs. Chin J Integr Med. 2020;26(4):243-250. doi: 10.1007/s11655-020-3192-6.
Marengoni A, Angleman S, Fratiglioni A. Prevalence of disability according to multimorbidity and disease clustering: a population-based study. J Comorbidity. 2011;1(1):11-18. doi: 10.15256/joc.2011.1.3.
Perucka I, Materska M. Antioxidant vitamin contents of capsicum annuum fruit extracts as affected by processing and varietal factors. Acta Sci Pol, Technol Aliment. 2007;6(4):67-74.
Prakash E, Gupta DK. Cytotoxic activity of ethanolic extract of Myristica Fragrans (Houtt) against seven human cancer cell lines. Universal Journal of Food and Nutrition Science. 2013;1(1):1-3. doi: 10.13189/ujfns.2013.010101.
Rakesh KJ, Soulimani R. Ethno-medicinal and phytochemical potential of Carum carvi Linn. and Cuminum cyminum: A review. International Journal of Pharmacognosy and Life Science. 2020;1(1):33-37. doi: 10.33545/27072827.2020.v1.i1a.7.
Ranasinghe P, Pigera S, Premakumara S. et.al. Medicinal properties of «true» cinnamon (Cinnamomum zeylanicum): a systematic review. BMC Complementary and Alternative Medicine. 2013;13:275. doi: 10.1186/1472-6882-13-275.
Saleh BK, Omer A, Teweldemedhin B. Medicinal uses and health benefits of chili pepper (Capsicum spp.): a review. MOJ Food Processing & Technology. 2018;6(4):325-328. doi: 10.15406/mojfpt.2018.06.00183.
Shahrajabian MH, Sun W, Cheng Q. Chemical components and pharmacological benefits of Basil (Ocimum basilicum): a review. International Journal of Food Properties. 2020;23(1):1961-1970. doi: 10.1080/10942912.2020.1828456.
Shahrajabian MH, Wenli Sun, Hong Shen. et al. Chinese herbal medicine for SARS and SARS‑CoV‑2 treatment and prevention, encouraging using herbal medicine for ­COVID‑19 outbreak. Acta Agriculturae Scandinavica, Section B Soil & Plant Science. 2020;70(5):437-443. doi: 10.1080/09064710.2020.1763448.
Srivastava AK, Singh VK. Biological action of Piper nigrum — the king of spices. European Journal of Biological Research. 2017;7(3):223-233. doi: 10.5281/zenodo.839039.
Sun W, Shahrajabian MH, Cheng Q. Anise (Pimpinella anisum L.), a dominant spice and traditional medicinal herb for both food and medicinal purposes. Cogent Biology. 2019;5. 1, 1673688. doi: 10.1080/23312025.2019.1673688.
Hewlings SJ, Kalman DS. Curcumin: A review of its' effects on human health. Foods. 2017;6 (10):92. doi: 10.3390/foods6100092.
Tang EL, Rajarajeswaran J, Fung S, Kanthimathi MS. Petroselinum crispum has antioxidant properties and migration of cancer cells. J Sci of Food & Agric. 2015;95 (13):2763-2771. doi: 10.1009/yista 7078.
Tyagi S, Chirag G, Poonam D et al. Importance of garlic (Allium Sativum): an exhaustive review. Journal of Drug Discovery and Therapeutics. 2013;1(4):23-27.
Varga J, Flammer AY, Steiger P et al. Endothelial cell infection and endothelitis in ­COVID‑19. The. Lancet. 2020;395(2):1417-1418.
Voloshyn OI, Vlasyk LІ, Voloshyna LO et al. Ginger as a spice with diverse therapeutic and prophylactic properties: prospects of application in modern conditions (review of publications). J One Health & Nutrition Problems of Ukraine. 2020;N 2:96-102. doi: 10.33273/2663-9726-2020-53-2-96-101.
Voloshуn О, Vlasуk L, Voloshyna L et al. The sense of health nutrition in the rehabilitation treatment of patients with post covid syndrome (first experience). J One Health and Nutrition Problems of Ukraine. 2021;N 2:15-27. ISSN 2663-9726. doi: 10.33273/2663-9726.
Wallace E, Salisbury C, Guthrie B et al. Managing patients with multimorbidity in primary care. BMJ. 2015;350:27-30. doi: 10.1136/bmj.h176.
Yang Y, Md SI, Wang J et al. Traditional Chinese medicine in the treatment of patients infected with 2019-New Coronavirus (SARS‑CoV‑2): A review and perspective. Int J Bid Sci. 2020;16 (10):1708-1717. doi: 10.7150/ijbs.45538.
Złotek U, Szychowski KA, Świeca M. Potential in vitro antioxidant, anti-inflammatory, antidiabetic, and anticancer effect of arachidonic acid-elicited basil leaves. Journal of Functional Foods. 2017;36:290-299. doi: 10.1016/j.jff.2017.07.024.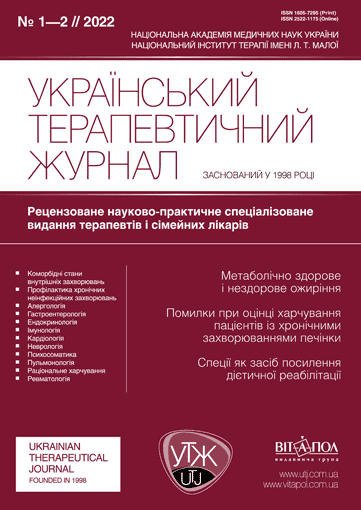 ##submission.downloads##