Мікробіота людини. Друг? Ворог? Сусіди?
Ключові слова:
мікробіом людини, пробіотики, клінічні випробування, продукти лінії «Пробіз» («Органосін Лтд»)
Анотація
Огляд присвячено сучасним уявленням щодо складу кишкового мікробіому людини, чинникам, які визначають бактеріальний «пейзаж» та впливають на його діяльність. Описано основні функції нормальної мікрофлори (забезпечення моторики кишківника, захист кишкового бар'єра від патогенних бактерій, паразитів, забезпечення регенерації епітелію кишківника, метаболічна та імунологічна функції, участь у процесах травлення, синтезі амінокислот, білків, антибіотичних речовин, вітамінів і сполук з гормональною активністю, сприяння засвоєнню мінералів та поживних речовин, запобігання розвитку патологічних станів). Визначення мікробіотою кишківника експресії вродженої імунної системи пояснює роль мікрофлори при хронічному запаленні і таких захворюваннях, як фіброз печінки, метаболічний синдром, цукровий діабет 2 типу, атеросклероз, серцево‑судинні, нейродегенеративні та онкологічні хвороби. Перспективним напрямом є використання мікроорганізмів з корисними властивостями (пробіотиків), необхідного субстрату для них (пребіотиків), їх метаболітів (метабіотиків) і комплексів про‑ та пребіотиків (синбіотиків) не лише для відновлення і регуляції мікрофлори кишківника, а й як терапевтичних агентів при низці захворювань, зокрема при проведенні ерадикаційної терапії бактерії Нelicobacter pylori. Обговорюються функції деяких видів і штамів корисних бактерій, зокрема штаму Bacillus clausii UBBC‑07, а також результати доклінічних і клінічних випробувань його застосування при антибіотико‑асоційованій діареї при ураженні Clostridium difficile. Розглядаються питання безпечності та факти позитивного впливу на здоров'я людини пробіотичних продуктів лінії «Пробіз» (Органосін ЛТД), що відрізняються персоніфікацією призначень певним верствам населення: «Пробіз®», «Пробіз® Феміна», «Пробіз® DUO» і «Пробіз® Імуно», які містять успішно відібрані живі пробіотичні бактерії. Наявний спектр монокомпонентних («Пробіз® Kids», «Пробіз® DUO»), полікомпонентних («Пробіз®», «Пробіз® Феміна») та синбіотичних («Пробіз® Імуно») продуктів дає змогу вибрати найкращий варіант у конкретних умовах для застосування не лише при запальних захворюваннях шлунково‑кишкового тракту, а й при хронічних захворюваннях.
Посилання
Avalueva EB. i dr. Infekcija Helicobacter pylori v klinicheskoj praktike. SPb, 2011. 572 s [in Russian].
Anokhina HA. Antybiotyk-asotsiiovana diareia: osoblyvosti vyboru probiotyka, doza ta tryvalist likuvannia. 2020;1:62-66 [in Ukrainian].
Ardatskaja MD. i dr. Disbioz (disbakterioz) kishechnika: sovremennoe sostojanie problemy, kompleksnaja diagnostika i lechebnaja korrekcija. Jeksperimental'naja i klinicheskaja gastrojenterologija. 2015;5:13-50 [in Russian].
Babak OJa, Bashkirova AD. Antihelikobakternaja terapija: akcent na probiotiki [in Russian].// Ukrainian Therapeutic Journal. 2015;1:91-94.
Balykova LA. i dr. Probiotiki v profilaktike antibiotiko-associirovannoj diarei u detej rannego vozrasta. Pediatrija. 2015;1(294):60-65 [in Russian].
Bondarenko VM, Vorob'ev AA. Obosnovanie i taktika naznachenija v medicinskoj praktike razlichnyh form probioticheskih preparatov. Farmateka. 2012;13(246):77-87 [in Russian].
Zaharova N. Antibiotikoassociirovannaja diareja: patogenez, lechenie. Vrach. 2013;1:35-39 [in Russian].
Kaminskyi VV, Konopliank VV, Vorobei LI, Tkachuk RR. Efektyvnist peroralnykh probiotykiv dlia vidnovlennia vahinalnoi flory [in Ukrainian]. Zdorove zhenshchyny. 2014;6:44-50..
Kuchumova SJu. i dr. Fiziologicheskoe znachenie kishechnoj mikroflory. Rossijskij zhurnal gastrojenterologii, gepatologii, koloproktologii. 2011;21(5):17-27 [in Russian].
Marushko IuV, Asonov AO. Dosvid vykorystannia probiotychnoho kompleksu Probiz u pediatrychnii praktytsi z metoiu profilaktyky antybiotykoasotsiiovanoi diarei [in Ukrainian].// Sovremennaia pedyatryia. 2017;3:62-67.
Osadchuk MA, Svistunov AA. Antibiotikoassociirovannaja diareja v klinicheskoj praktike. Voprosy sovremennoj pediatrii. 2014;13(1):102-108 [in Russian].
Pavlovich S. Mikrobiologija s virusologiej i immunologiej. Litres, 2021. 799 s [in Russian].
Pimanov SI, Leja M, Makarenko EV. Rekomendacii konsensusa Maastriht-4 po diagnostike i lecheniju helikobakternoj infekcii: obsuzhdenie na Evropejskoj gastrojenterologicheskoj nedele. Consilium Medicum. 2012;8(14):11-21 [in Russian].
Polujektova EA. i dr. Mehanizmy, obespechivajushhie vzaimodejstvie bakterial'nyh kletok s organizmom hozjaina, i ih narushenie u pacientov s vospalitel'nymi zabolevanijami kishechnika. Rossijskij zhurnal gastrojenterologii, gepatologii, koloproktologii. 2014;24(6):42-53 [in Russian].
Suvorova AN, Tkachenko EI, Ucpenskij JuP. Disbioz kishechnika. Rukovodstvo po diagnostike i lecheniju. Spb: InformMed, 2013. 278 s [in Russian].
Tkach SM. Jeffektivnost' mul'tikomponentnogo probiotika v lechenii sindroma razdrazhennogo kishechnika i antibiotikoassociirovannoj diarei. Suchasna gastroenterol. 2015;1:66-72 [in Russian].
Udivitel'nyj i zagadochnyj mikrobiom: kto gde zhivet v dome moem? Uchastkovyj vrach. 2018;2-3:10-12 [in Russian].
Uspenskij JuP, Fominyh JuA. Antibiotik-associirovannaja diareja: aktual'nost' problemy, profilaktika i terapija. Arhiv vnutrennej mediciny. 2013;2:46-53. https://doi.org/10.20514/2226-6704-2013-0-2-46-53 [in Russian].
Haritonova LA, Grigor'ev KI, Borzakova SN. Mikrobiota cheloveka: kak novaja nauchnaja paradigma menjaet medicinskuju praktiku. Jeksperim klinich gastrojenterologija. 2019;1 — S. 55-63 [in Russian].
Shenderov BA. i dr. Metabiotiki: perspektivy, vyzovy i vozmozhnosti. Medicinskij alfavit. 2019;2(13):43-48 [in Russian].
Jakovenko JeP. i dr. Innovacionnye mnogovidovye mul'tishtammovye probiotiki v klinicheskoj praktike. Lechashhij vrach. 2014;5:7-81 [in Russian].
Benoni G et al. Antibiotic administration and oral bacterial therapy in infants. Chemioterapia: international journal of the Mediterranean Society of Chemotherapy. 1984;3(5):291-294.
Borre YE et al. The impact of microbiota on brain and behavior: mechanisms & therapeutic potential. Microbial endocrinology: The microbiota-gut-brain axis in health and disease. 2014:373-403.
Bricker E et al. Antibiotic treatment for C. difficile-associated diarrhea in adults. Cochr Database Syst Rev. 2005;1. CD004610.
Bubnov RV et al. Probiotics and immunity: provisional role for personalized diets and disease prevention. EPMA Journal. 2015;6(1):1-11.
Bultman SJ. Emerging roles of the microbiome in cancer. Carcinogenesis. 2014;35(2):249-255. doi: 10.1093/carcin/bgt392.
Clinical Trials Registry-India (CTRI): / 2018/05/014114.
De Castro JA. A., Guno MJ.V. R., Perez MO. Bacillus clausii as adjunctive treatment for acute community-acquired diarrhea among Filipino children: a large-scale, multicenter, open-label study (CODDLE). Tropical Diseases, Travel Medicine and Vaccines. 2019;5(1):1-9. doi: 10.1186/s40794-019-0089-5.
D'Souza AL et al. Probiotics in the prevention of antibiotic associated diarrhea: metaanalysis. BMJ. 2002;324(7350):1361-1366.
Dubey AP et al. Use of VSL#3 in the Treatment of Rotavirus Diarrhea in Children: Preliminary Results. Journal of Clinical Gastroenterology. 2008;42:S126-S129. doi: 10.1097/MCG.0b013e31816fc2f6.
Fooladi AA. I. et al. Probiotic as a novel treatment strategy against liver disease. Hepatitis monthly. 2013;13, N 2. e7521 doi:10.5812/hepatmon.7521.
Ganguly NK et al. ICMR-DBT guidelines for evaluation of probiotics in food. The Indian Journal оf Medical Research. 2011;134(1):22.
Geuking MB et al. The interplay between the gut microbiota and the immune system. Gut Microbes. 2014;5(3):411-418. http://doi.org/10.4161/gmic.29330.
Goldenberg JZ et al. Probiotics for the prevention of pediatric antibioticassociated diarrhea. Cochrane Database of Syst Rev. 2015;N 12. CD004827. doi: 10.1002/14651858.CD004827.pub4.
Golubnitschaja O, Costigliola V. General report & recommendations in predictive, preventive and personalised medicine 2012: white paper of the European Association for Predictive, Preventive and Personalised Medicine. EPMA Journal. 2012;3(1):1-53.
Grech G et al. EPMA position paper in cancer: current overview and future perspectives. EPMA Journal. 2015;6(1):1-31.
Hirabara SM et al. Molecular targets related to inflammation and insulin resistance and potential intervention. Journal of Biomedicine and Biotechnology. 2012;2012. 379024. https://doi.org/10.1155/2012/379024.
https://compendium.com.ua/info/304456/probiz/.
https://compendium.com.ua/info/331131/probiz-kids/.
Ianiro G et al. Bacillus clausii for the treatment of acute diarrhea in children: a systematic review and meta-analysis of randomized controlled trials. Nutrients. 2018;10(8):1074. https://doi.org/10.3390/nu10081074.
Jafarabadi MA et al. A meta-analysis of randomized controlled trials of the effect of probiotic food or supplement on glycemic response and body mass index in patients with type 2 diabetes, updating the evidence. Current Diabetes Reviews. 2021;17(3):356-364. doi: 10.2174/157339981666620081215102 9.
Jayanthi N, Sudha RM. Bacillus clausii — The probiotic of choice in the treatment of diarrhea. Journal of Yoga & Physical Therapy. 2015;5, N 4. doi: 10.4172/2157-7595.1000211.
Kerry RG et al. Benefaction of probiotics for human health: A review. Journal of food and drug analysis. 2018;26(3):927-939. https://doi.org/10.1016/j.jfda.2018.01.002.
Lahiri K et al. Bacillus сlausii as an adjuvant therapy in acute childhood Diarrhoea. IOSR-JDMS. 2015;14:74-76. doi: 10.9790/0853-14517476.
Lakshmi SG et al. Safety assessment of Bacillus clausii UBBC07, a spore forming probiotic. Toxicology reports. 2017;4:62-71. https://doi.org/10.1016/j.toxrep.2016.12.004.
Lehtoranta L, Latvala S, Lehtinen MJ. Role of probiotics in stimulating the immune system in viral respiratory tract infections: A narrative review. Nutrients. 2020;12(10):3163. https://doi.org/10.3390/nu12103163.
Leta V et al. Neurogenic and anti-inflammatory effects of probiotics in Parkinson's disease: a systematic review of preclinical and clinical evidence. Brain, Behavior, and Immunity. 2021;98:59-73 https://doi.org/10.1016/j.bbi.2021.07.026.
Manichanh C et al. Reduced diversity of faecal microbiota in Crohn's disease revealed by a metagenomic approach. Gut. 2006;55(2):205-211. doi: 10.1136/gut.2005.073817.
Marseglia GL et al. Efficacy of Bacillus clausii spores in the prevention of recurrent respiratory infections in children: a pilot study. Therapeutics and clinical risk management. 2007;3(1):13.
Maugo B et al. Efficacy of Bacillus clausii in reducing duration of illness in acute diarrhoea in children 6-59 months of age admitted with severe dehydration. East African Medical Journal. 2021;98, N 4.
McFarland LV. Antibiotic-associated diarrhea: epidemiology, trends and treatment. Future Microbiol. 2008;3(5):563—578. doi: 10.2217/17460913.3.5.563.
McFarland LV. Meta-analysis of probiotics for the prevention of antibiotic associated diarrhea and the treatment of Clostridium difficile disease. Official Journal of the American College of Gastroenterology| ACG. 2006;101(4):812-822. doi: 10.1111/j.1572-0241.2006.00465.x.
Nista EC et al. Bacillus clausii therapy to reduce side-effects of anti-Helicobacter pylori treatment: randomized, double-blind, placebo controlled trial. Alimentary Pharmacology & Therapeutics — 2004;20(10):1181-1188.
Paparo L et al. Protective action of Bacillus clausii probiotic strains in an in vitro model of Rotavirus infection. Scientific Reports. 2020;10(1):1-10.
Patel C, Patel P, Acharya S. Therapeutic prospective of a spore-forming probiotic — Bacillus clausii UBBC07 against acetaminophen-induced uremia in rats. Probiotics and Antimicrobial Proteins. 2020;12(1):253-258. doi: https://doi.org/10.1007/s12602-019-09540-x.
Randyuk YuO et al. Experience of optimizing treatment of acute intestinal diseases in Bukovyna. Deutscher Wissenschaftsherold German Science Herald. 2016;N 1:44-46.
Ripert G et al. Secreted compounds of the probiotic Bacillus clausii strain O/C inhibit the cytotoxic effects induced by Clostridium difficile and Bacillus cereus toxins. Antimicrobial Agents and Chemotherapy. 2016;60(6):3445-3454.
Romankevych IV. Clostridium difficile infection in children and adults as a important reason of antibiotic associated diarrhea. Modern Pediatrics Ukraine. 2020;107(3):59-66. doi 10.15574/SP.2020.107.59.
Rook GA.W. Hygiene hypothesis and autoimmune diseases. Clinical reviews in Allergy & Immunology. 2012;42(1):5-15.
Rose S. Gastrointestinal and Hepatobiliary pathophysiology. Fence Greek Publishing, LLC, Madison, 1998:475.
Sanders ME, Shane AL, Merenstein DJ. Advancing probiotic research in humans in the United States: Challenges and strategies. Gut Microbes. 2016;7(2):97-100. : https://doi.org/10.1080/19490976.2016.1138198.
Setchell KD.R., Cassidy A. Dietary isoflavones: biological effects and relevance to human health. The Journal of Nutrition. 1999;129(3):758S-767S. https://doi.org/10.1093/jn/129.3.758S.
Shenderov BA. Metabiotics: novel idea or natural development of probiotic conception. Microbial Ecology in Health and Disease. 2013;24(1):20399.
Spor A, Koren O, Ley R. Unravelling the effects of the environment and host genotype on the gut microbiome. Nature Reviews Microbiology. 2011;9(4):279-290.
Sudha MR et al. Bacillus clausii UBBC-07 reduces severity of diarrhoea in children under 5 years of age: a double blind placebo controlled study. Beneficial Microbes. 2019;10(2):149-154. https://doi.org/10.3920/BM2018.0094.
Sudha MR, Bhonagiri S, Kumar MA. Efficacy of Bacillus clausii strain UBBC-07 in the treatment of patients suffering from acute diarrhea. Beneficial Microbes. 2013;4(2):211-216. https://doi.org/10.3920/BM2012.0034.
Upadrasta A, Pitta S, Madempudi RS. Draft genome sequence of Bacillus clausii UBBC07, a spore-forming probiotic strain. Genome Announcements. 2016;4, N 2. e00235-16. doi: https://doi.org/10.1128/genomeA.00235-16.
Verma A et al. A randomized double-blind placebo controlled pilot study of probiotics in adolescents with severe obesity. Journal of Diabetes & Metabolic Disorders. 2021:1-12. https://doi.org/10.1007/s40200-021-00855-7.
Videlock EJ, Cremonini F. Meta-analysis: probiotics in antibiotic-associated diarrhea. Alimentary pharmacology & therapeutics — 2012;35(12):1355-1369.
Vitetta L et al. The gastrointestinal microbiome and musculoskeletal diseases: a beneficial role for probiotics and prebiotics. Pathogens. 2013;2(4):606-626. doi: 10.3390/pathogens2040606.
Whelan K. Probiotics and prebiotics in the management of irritable bowel syndrome: a review of recent clinical trials and systematic reviews. Curr Opin Clin Nutr Metab Care — 2011;14(6):581-587. doi: 10.1097/MCO.0b013e32834b8082.
World Gastroenterology Organisation Global Guidelines: Probiotics and prebiotics. 2011.
Wu H, Chiou J. Potential Benefits of Probiotics and Prebiotics for Coronary Heart Disease and Stroke. Nutrients. 2021;13(8):2878. https://doi.org/10.3390/nu13082878.
Zhao L. The gut microbiota and obesity: from correlation to causality. Nature Reviews Microbiology. 2013;11(9):639-647.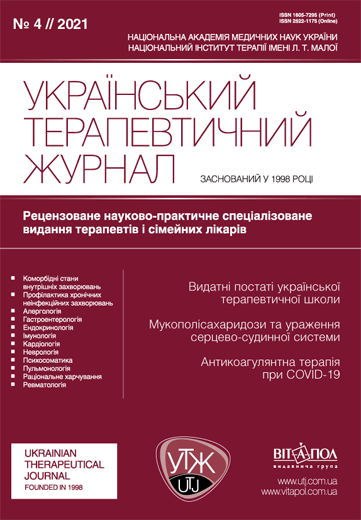 ##submission.downloads##
Розділ
Лікарські засоби в терапії